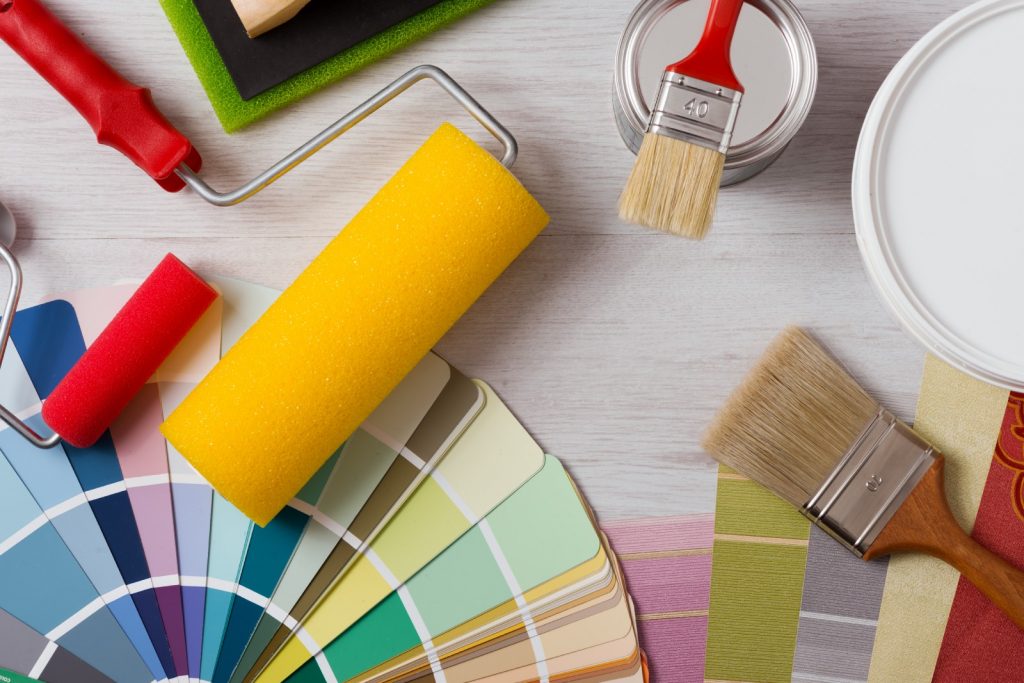 Paint is the Soul of any Home so; Home Painting is done to add life to Home. "Home is where the heart is" as the saying goes. We all love Our Homes whether we live in Rural area or Urban area, It does no matter how small or big our home is simply we love it. So, to make it more meaningful we do professional Painting. Paint on home on its different rooms or different walls on same room also show our personality.
professional Painting is done when newly construction is done or when you already have one but you want to Re-Paint it due to various reasons.
Newly Constructed Building Painting
In newly constructed building or Flat fresh painting is done. It is done by following
Putty
Putty is similar to clay or dough material. It is done to level the surface for paint work, to hide any minor cracks or damages. Putty is done in two or three coats in fresh painting work. After putty is done it is labeled with the help of sand paper.
Primer
Primer is type of coating done before painting. Primer helps to bind the paint with Putty to last long. In fresh Painting one or two coat of Primer is required. Then it is labeled with sand paper for a better finish.
Paint
Paints are generally two types. So first decide which type of paint you want to do at your home. Oil Based or Water Based. It is actually solvent that is used which evaporates after some time.
Oil Based Paint
Oil Base Paints are either natural oils or synthetic alkyd as base. Once it evaporates the resign hardens the coating. Oil base is done when you don't want to change color for long. Also keep in mind its drawbacks.
Water Based Paint
Water based paints are paints which have water as solvent. These are also known as latex paints. Generally whether it is Interior or Exterior Painting water based paints is used. These paints are easy to paint, quickly to dry and easy to remove.
Re-Painting
Re-Painting is done for various reasons like Painted long ago; want to change color of wall or room, any occasion like festival etc.
Re-Painting is done by first removing the color of previous work with the help of sand paper. The one or two coating of putti is done depending upon condition of wall, and then it is labeled and one coat of primer is done before paint is applied.
Painting a home involves costs that depends upon your budget whether Interior Paint or Exterior Paint. Depending Upon Budget choose from following
Low segment
In Low Budget segment Acrylic Distemper is done which is popularly know as Whitewash. They don't give much desired result.
Mid Segment
In Mid budget segment Emulsion Paint is done. This segment is most on demand and Emulsion Paint gives good satisfactory result in this segment with matte finish look. In this segment wall paper on walls is also popular.
Upper Mid Segment
In this segment Premium work is done. In this segment of Premium Paint work high quality paint is used which gives good desired result and premium look to Home.
Upper Segment
In upper segment Elite work is done. Here Royal Paint of high standard is used which gives royal look to the Home. This is a luxurious segment which gives smooth fine finish. In this segment Semi -gloss, Satin, Egg shell, Matte, Texture Paints were used.
Interior Room Paint Ideas
An interior space color often shows the nature and mindset of people who live there. As the saying goes "Har Ghar Kuch Kehta Hai". People paint their homes according to their choices. Following are some suggestions
Living Room or Drawing Room Idea
Living room or Drawing room is the place where we first enter from outside and rest in sofa or chair. Living room is also place of all activities like play in house games or organizes small party. So, this room must be vibrant in color. This is the place where you can show some creativity with wall painting like Hand Painting, Texture Paint or Stencil Paint.
Dining Room Idea
Dining room must a pleasant to sit and enjoy your food. Dining room must be colored with mix of dark with light shades with small stencils work like ribbon or folk floral.
Bedroom Color Idea
Bi-color is the current trend these days where two walls remains dark and other two remains light of contrast color. People these days also like to have one wall with dark or texture paint and other three walls of contrast light color. It gives not only a calm look but also add some vibrant energy from dark color.
Guest Room Idea
In our country guest were treated as God's. So, Guest room should give gracious and sacred feeling at the same time. So choose colors which gives simple yet attractive look.
Study Room Color
Study rooms are place of concentration and creativity. In study room mind must be fresh and calm. The color of study room should be done keeping in mind these factors. To keep it cool and calm room must be painted with light shades.
Kitchen Color Idea
Kitchen is the place of constant work. So, kitchen color should be dark one with easy to clean. Use kitchen color in a way that it looks fresh and less dirty one.
Washroom or Bathroom color
Like Kitchen Washroom also gets dirty easily but space in these area are quiet small. So, too look small area use mid-range color which is not light or too dark.
Wooden and Metal Paint
Wooden doors or Metal Paint is done by type of paint known as Enamel Paint. These are also of two types Water based and Oil base. Oil base paints are generally used to paint Doors, Windows and Grills.
Exterior Paint
Exterior Paint of the house must be both attractive and cool. So that people remember your home.
Exterior paint is done if new first by applying primer then Layers of Paint. One has to keep in mind that it is exposed to dust and water. So apply paints which are good resistance for these and damp.
Why Us?
For Any Query Please Fill Out The Form Below: